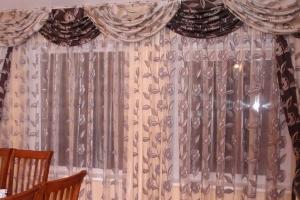 Aisvita, LLC Curtain Salon in Vilnius proposes to create a unified interior and the comfort of your home ... Since October 1996, Aisvita, LLC is engaged in this business. Specializes in decorating restaurants, cafes, hotels and private spaces.
We work directly with fabric manufacturers from Germany, England, Austria, France, Italy, Turkey and India. We sell Italian and Polish cornices and their accessories, as well we sell mechanisms for roman blinds, austrian blinds, for screen curtains. Also we can offer a wide range of mechanism for complicated windows.
In our shops you can find wide range of ready made pillows, tablecloths from India, ready made bedcovers and curtains. If you will not be able to find what you need in our shops, just tell us what you like and we will deliver it from our suppliers in a short period of time.
You want household harmony, or maybe you like to shock, or the alignment is not what it seems - our designers will help to solve it all. From the project data to the final order of implementation. High-quality materials and ideas that do not restrict you to a whole surprise. Designed curtains for you - will fulfill your home with more comfort and cosiness.
In shops we sell over 300 types of curtains and also offer a wide range of intermediate curtains.
Rely on professionals!
Screen Curtains
Screen curtains came from Japan, they are particularly suitable for minimalistic style of interior. These are the fabric pieces, horizontally movable aluminum mechanism. Sewn from a variety of materials, slides beautifuly, with the other fabric fragments, the cross wires. This is a great tool to cover the large panoramic windows, you have a convenient window into the center of the field or on the terrace. Currently, it is the most popular means of decorating the windows, which became popular between even the greatest skeptics.

Austrian blinds
This is especially luxurious and splendid curtain type, it is somewhat similar to the roman, but austrian blinds top up with the big-wave gloom. They can also be mixed with day curtains as well as night, or perhaps both mixed with some applications taken from the silk material, such as flowers. These curtains will fit with natural silk, organza fabrics, non-traditionaly standing taft.

Roman blinds
This is often referred to as Roman blinds. Its special mechanism helps to blend or gather on top of the window area, or just blends in window niche. These curtains can be sewn from thin fabrics as organza, transparent fabrics, thick and even very thick fabrics like tapestry. Sewn to the lining, and without it. Roman blinds may be carried out as the shade option, only then they should be coordinated with the day curtains. The method of attachment allows the adaptation of the roman blind to a variety of windows.

Classical curtains
Everyone dreams of a comfortable and stylish home in which aesthetics and harmony prevails. Curtains are essential for us and it only makes our home warm and comfortable.
Day time curtains sewn from lightweight, bright, matt and transparent fabrics. They can be short or long, up to the floor, or even lying on it. If the lights or a close neighbor is not the problem than day curtains will be enough, if not there might be a need for a darker night material, there are plenty of different colours and designs, but if this is not enough than blackout material will solve it all, it is possible to sew it with any dark night material.
There are also intermediate curtains which mounted one. They are usually sewn from denser but less-transparent fabrics, they must be relatively light and bright, that the window could be slightly covered. Where and how to hang?
Day and night curtains are hanged on the cornices. They are wooden, metal, affixed to the wall, as well as plastic, metal is affixed to the ceiling. It is important that the molding decoration piece must be matched not only to the curtains but also tothe room interior.
Curtains can be decorated with stamped metal rings. Curtains will fall with beautiful large waves.
Screens, autrian blinds, roman blinds can be mounted to the ceiling, window niche with special holders. Cornices are imported from Spain, Italy, Poland and Germany. Screens, romand blind, austrian blind mechanisms imported from Italy. For customer's request we install and hang all the other systems for curtains. We guarantee the quality of work!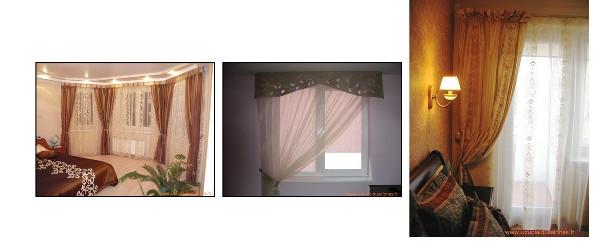 Tablecloths, bedcovers, pillows, ready-made curtains
We sell various finished tablecloths, pillows, curtains, bedcovers. These products are of various sizes, color and patterns. If you can not find suitable pillows, tablecloths, bedspreads or ready made curtains , we can sew one from the material and appropriate model chosen.
Read more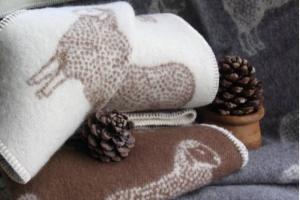 NAMU TEKSTILE, LLC was launched in October, 2003. The main activity of the company is production of various textile products that are made of natural materials (natural sheep wool, linen or cotton). 60% of all NAMU TEKSTILE, LLC clients are hotels, hospitals, kindergartens and other companies.
We offer custom–made bedding, towels and other products made of 100% cotton.
On the request of choosey clients we also produce bedding from linen, corrugated cotton and sateen materials. Wide range of bedding is supplemented with bed sheets and bedcovers. On cooler evenings we may offer you to cover yourself with natural wool plaid or just wear warm vest or cloak. Since various types of saunas are getting more and more popular nowadays, we offer sauna accessories: aprons, caps, robes, sponges, seat mats, various towels etc. On customer's request we embroider, produce other accessories: decorative pillows, linen roses, wattled and weaved mats, tablecloths, napkins etc. NAMU TEKSTILE, LLC offers a wide range of textile products for you and your home
Our bedding is produced from various types of materials, may be in different sizes and colours. Most of our production is intended for hotels, rural tourism granges, hospitals, kindergartens, textile shops. Bedding patterns and colours are constantly updated to fit modern trends. On client's request we sew–in zippers, embroider initials or company logo, arrange different types of sets.
Recommendations
Modern market is constantly supplemented with various beddings that come in different sizes. Therefore before buying bedclothes we recommend to measure your bedroom belongings: blanket, pillows and mattress. When buying a simple bed sheet it is necessary to add up at least 20 cm overlap so that bed sheet would smoothly lay and wouldn't be too small. When buying a fitted bed sheet everything is vice versa – such bed sheet should match mattress's measurements. When buying blanket or pillow slips we recommend 2–5 cm larger slips because natural fabrics are predisposed to shrink during washing process (especially linen or linen–cotton blends).
Advice
Even when you buy the most expensive and qualitatively produced bedding, there is a doubt if it will look good and be durable if you take inadequate care of it. Here are some advices:
• The thinner the material, the softer should be its care;
• Sateen and cotton (light colours) garments may be washed at 60 °C temperature;
• To avoid fading, brighter colours (especially bluish, violet and claret shades) are recommended to wash at 40°C temperature;
• The brighter are the colours of a new garment, the more times you should wash it separately from other laundry;
• Blanket and pillow cases should be turned inside out and washed with colour–garment washing machine program at 40°C temperature;
• White laundry may be washed at 90 °C temperature;
• Bedding should be washed at least once a week;
• When washing the bedding it is essential to sort it by colours. Darker colours may colour lighter clothes and any other garments. It is essential to pay attention to care instructions and follow them.
Majority of people spend more time in bed than wearing casual clothing. Usually we do not forget to wash our clothes but our bedding is washed not as often as it should be. Health and good sleep is more important than the time spent for launder.
Sateen
During the production of regular cotton, very gentle and thick material is obtained; this material is called sateen. Sateen bedding is easy to wash, easy to iron, fast to dry, pleasant to the body and cools during those hot summer nights.
Perfect present for those who appreciate style and exclusivity.
Material: 100% cotton
Corrugated sateen
Exclusively beautiful and high quality bedding that does not require ironing. Such bedding is resistant to multiple washes, does not lose its softness and remains pleasant to the body just like as regular sateen. Corrugated sateen bedding is a great choice for those who are practical and appreciate quality.
Material: 100% cotton
Corrugated cotton
Bedding that does not require ironing. Special crumple effect gives additional exclusivity. Corrugated cotton bedding also has a great quality and price ratio.
Material: 100% cotton
Cotton
When talking about cotton covers, cotton bedding is gentle and pleasant to use, easy to wash, easy to iron, fast to dry and suitable for allergic adults and children. Such bedding is youthful, modern, available in non–traditional solid colours, geometrical or classic floral prints.
Material: 100% cotton
Linen
Various researches have proven that linen is the best material for bedding. Linen bedding is durable, non–allergenic, evenly distributes the natural sweat throughout the bedding so that human body temperature would remain even. Choose simple pattern, squared or even ornately embroidered bedding for sweet sleep and complete relaxation.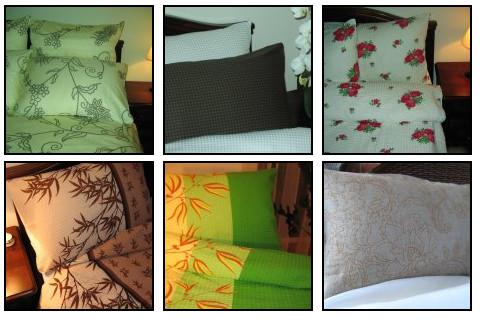 Read more