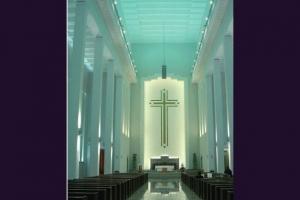 During the past years perception of lighting application in buildings of sacramental purpose has expanded since it is not exclusively natural lighting that is being used, but artificial next to it also. Lighting design that was first introduced in the market several decades ago is still considered a novelty in Lithuania. In 2004 professional designer Antanas Pocevičius has designed lighting for renovated Church of Jesus Christ Resurrection.
About GAUDRE, LLC
GAUDRE, LLC is one of the leading companies in lighting market in Lithuania. Our goals are company's competence, skills, reliability and high quality of supplied products and provided services. This includes all fields of our operations: lighting, EIB and DALI lighting control systems, electricity installations and electrical heating systems. We are offering modern integrated solutions and their related services. Efficiency of our services is ensured due to high skills of our technicians, professionalism and attention given to the client. Our range of products is a perfect choice for implementing technical requirements of various projects, characteristic by optimum price, high quality and economic value.
We are the ones to provide You with high qualified solutions.
Qualified solutions, they are more than just a design and technical specs of a product. It's a creative process requiring deep knowledge of lighting theory, human psychology and electronics, as well as experience in implementation of practical solutions. Our knowledge is a promise of successful implementation of visions by architects and our clients, as well as revealing possibilities of light use. We are promising long-term and cost effective solutions depending not only from technologies or modern art, it's also experience in production and design.
Read more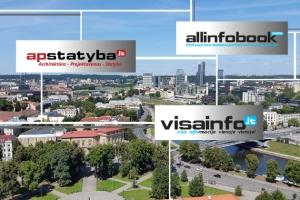 The main activities of JSC "AdMonita" are marketing information and advertising services on visainfo.lt, apstatyba.lt, allinfobook.com websites, web solutions, website development and optimization, SEO services, Google AdWords advertising, SEO article writing and publishing, social network administration, media planning and other forms of advertising on the Internet.
Projects created and administered by JSC "AdMonita"
visainfo.lt – All information in one place! visainfo.lt is an information website where companies present their activities, goods and services to potential customers in the form of articles, news and specialist advice.
apstatyba.lt – Architecture – Design – Construction. apstatyba.lt is a specialized construction, interior and real estate website, which provides information for architects, designers, construction and interior design companies, as well as individuals interested in innovations and current events in the construction market.
allinfobook.com – Find your new business partners all over the world! allinfobook.com is an information business guide adapted to foreign markets, where companies present their activities, goods and services to potential customers all over the world with the help of information pages and articles.
JSC "AdMonita" is also developing various e-commerce projects: offering high-quality pool and pond chemistry and maintenance products.
baseinuchemija.com – Pool chemistry and pool equipment store. In the e-shop baseinuchemija.com the buyer can buy hight quality pool care products and also find all the answers on how to have clean, pure and transparent pool, pond, hot tub or spa water all season long.
nuogakaina.lt – Hgh quality goods at a good price. In the e-hop nuogakaina.lt the buyer can a wide selection of sports, beauty products, seat bags, pool and pond care products and equipment, food supplements, teas and accessories, leather goods, action cameras.
JSC "AdMonita"
Company Code: 304916723
VAT Code: LT100012048518
Adress: Raudones str. 59, Vilnius LT-14267, Lithuania
Phone: +370 639 33 900
Email: This email address is being protected from spambots. You need JavaScript enabled to view it.
Checking Account: LT93 4010 0510 0462 8823
Bank: Luminor
Read more