BUSINESS ARTICLES
Here you can find articles about products, services, importers, exporters, producers, service providers and trademarks. You also can place some articles about your company, products and services. It is the best way to introduce your company to potential partners (clients) and to represent your products and services. Place article about your products and services in order to give more information about there advantages, use and purpose. Also you can compare them with other similar products and services.
Stainless steel brackets for brick veneer facades
UAB "BAUTOPAS" is a company that develops and produces a wide range of stainless steel brackets for brick veneer facades.
Bricks have been the most popular building material since ancient times until the present days. A brick wall has many advantages such as good thermal and sound insulation, it also holds the load. Brick facades as well are exceptionally beautiful. However, thick brick walls are now the matter of the past. Today the construction of a modern wall is made out of several layers and bricks are laid only on the outside.
TIMBER-FRAME ELEMENT HOUSES and WOODEN WINDOWS
TIMBER-FRAME ELEMENT HOUSES and WOODEN WINDOWS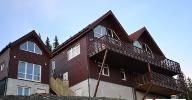 KRIAUTE LLC was founded in 1987, in Lithuania. We have 10000m2 of manufacturing space, where we produce timber frame house panels, wooden windows and doors, structural and planed wood, different kinds of joinery products, garden houses and outdoor furniture.