BUSINESS ARTICLES
Here you can find articles about products, services, importers, exporters, producers, service providers and trademarks. You also can place some articles about your company, products and services. It is the best way to introduce your company to potential partners (clients) and to represent your products and services. Place article about your products and services in order to give more information about there advantages, use and purpose. Also you can compare them with other similar products and services.
Panel house. About panel houses - KRIAUTE, LLC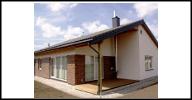 Panel house. About panel houses - KRIAUTE, LLC
Construction of houses pre-fabricated in plants has been the most popular house-building technology in the world for several decades. For example, in US 90% of houses have been built on the basis of wooden frameworks. In Sweden 80% of all houses have been made of wood and in Scotland - 48%.